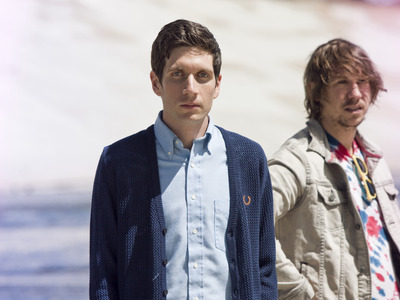 I recently started listening to NO AGE when I saw that they opened for PAVEMENT and SONIC YOUTH. Now when two heavyweights in the indie/alternative world put a band on their bill, it makes me take notice. Their latest record, "Everything In Between" is so chocked full of goodness that it almost made me skip a beat when I listened to it for the first time.
For a mere two piece outfit to create such varied and creative music is a testament to their talent. It is no wonder that Dean and Randy met at famed LA Record Store Aron's since their records are rife with their influences. From the Jesus and Mary Chain drone of "Life Prowler" the the Peter Hook style bass of "Glitter" to the punk fuzz of "Fever Dreaming" it's like listening to a record collection on crack.
No Age have the unique ability to morph their sound without compromising the basic ideal of the music. It's as if their songs are celebration of the underground and the notion that if you have passion it doesn't matter what you sound like. Their is so much power in the drums, notably on the slightly poppy "Valley Hump Crash" and the balls out rock of "Shred and Transcend" that the whole thing threatens to come apart.
The more I listen to the record the more I find the nuances and the textures. With each listen I realize this is a band the be reckoned with; if that's even what they want.