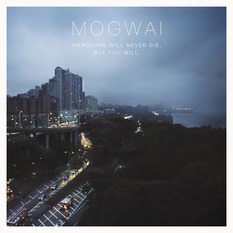 It's odd to say that in many ways Scottish Post rockers MOGWAI have become predictable. One would have thought that this far into their career, releasing their seventh record entitled "Hardcore Will Never Die, But You Will", that the band would start to tinker around and experiment with their sound more. But true to form the band mines similar territory as their last two records. (ed note. I kind of ignored their last album outside of the single "The Sun Smells Too Loud").
The opener, the misleading "White Noise", is a simple guitar and piano drone that leads us to "Mexican Grand Prix" which borrows a synth line from STEREOLAB over hushed vocals and KRAFTWERK like computerized voices. As is usually the case with Mogwai, the bass is the real star of the song. "Rano Pano" is the lead single and has all the earmarks of the harder, darker sound similar to MY BLOODY VALENTINE playing 70's classic rock. "San Pedro" could actually be a radio hit since it clocks in at under 4 minutes and has a nice hook (too bad there are no vocals to go with it). The closing half of the record has a lot of M83 touches to it with the finale "You're Lionel Ritchie" starting as a Disintegration-era CURE song before building to a massive wave of guitars, bass and drums.
"Hardcore Will Never Die, But You Will", is not going to add any fans to Mogwai's base. At this point, I don't think they care. I think what they do care about is refining, honing and polishing their sound for those who have already drank their brand of Kool-Aid.