For some unknown reason I was pulled into the world of bouncy, sunny pop music tonight by my searching. Normally I don't trust anything being pimped by large scale commercial radio. Here on the west coast we have always relied on KROQ (the LA Alternative Station made famous by subjecting the world to Richard Blade and his fake ass) to give us the heads up on the next best thing. This is where I heard Depeche Mode, New Order, and Nirvana for the first time. Sadly, this once great station has gone the way of all radio (the proverbial crapper!!). Someone explain the appeal of Sublime to me. I mean, come on the guy dies like 15 years ago and they still get more airplay to bands a thousand times better.


Anyway, the one guy I still trust from KROQ is Rodney on the ROQ. Rodney is sort of the unofficial musical guru who broke Oasis, Blur and all the big brit acts to the US. Although he is pretty lost as a DJ he still has impeccable taste. To my knowledge, he and Jason Bentley (another very savvy musical programmer with a tilt to the electronic world) are the only DJ's allowed to pick their own stuff. So this is where my search began.
Scouting for Girls
are very much the kind of thing I would have worn out when I was in college. Blur type pop with just enough edge to make them cool. Their new single "Elvis Ain't Dead" starts with a fun little synth lick before hitting the heart of the song, a catchy and yet plaintive plea to a girl who made the wrong choice. This song doesn't have a lot of musical depth but it does get stuck in your head. The rest of their music is more in the vein of the usual Brit pop but I would give "She's So Lovely" a listen or two.
From there I ventured over to the site for
The Sonic Hearts
. Another poppy UK band, this time from Liverpool (home of the originators of bouncy pop, THE BEATLES). Employing lost love lyrics and whistles, the Sonic Hearts bear a striking resemblance to a lot of stuff you would hear in the early 60's with a hint of Ryan Adams thrown in for a touch of melancholy. I can almost this coming out of my stereo on a sunny spring day. Very Cheery. If you sign up on their mailing list you get a free mp3 so I would feel bad for posting it here.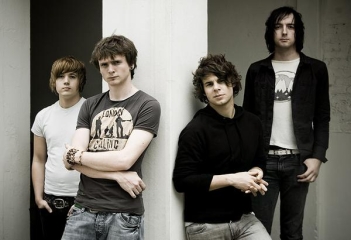 Air Traffic are making something of a splash in England (at least that's what their site says) so I felt like this was the next place I should stop and wouldn't you know it, more bouncy pop!! This certainly plays by the more traditional Keane meets Arctic Monkeys by way of The Kinks sort of thing that seems to be getting more and more popular these days. I'm sure they will get a huge push since they are signed to Astralwerks. Tops among the stuff I heard were these two songs.
(mp3) Air Traffic -- Shooting Star (thanks to Keep Hope Inside)
(mp3) Air Traffic -- Just Abuse Me (thanks to Obscure Sound)
So If anyone has any more bouncy Brit pop they care to share, old or new, drop me a line and we can all bounce along together with a spring in our step!!