So I'm not really sure what kind of year 2008 will be from a music standpoint. Part of this is due to the my own laziness. I used to be up on who was releasing new albums when and therefore I could anticipate things before they happened. Sadly, this trait has gone by the wayside (which for a music blog tends to handicap me a bit in the scooping trade) Outside of the new REM record (out April 1st) I can't tell you any record I am in rapt anticipation for. I am also intrigued by the impending release of the new NADA SURF record. On the other hand, this is also a good time to launch back into the record collection and rediscover some old friends since I have nothing dominating my Ipod lately. This is what brought me to the rediscovery of PORTISHEAD. (I know kinda glum way to begin a new year but hear me out on this one...)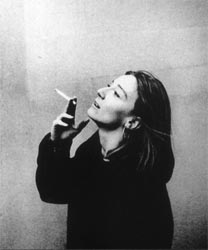 Portishead's first record still sounds fresh and revolutionary. This was a group of risk takers and spawned a whole new form of music that had a huge impact on me during my college years. With its mix of hip hop beats and tortured songstress lyrics, "Dummy" was a complete and utter shock to the musical system. I wasn't prepared for something so unique and yet familiar. (Side Note: On vacation to visit the in laws my father in law received a copy of the Edith Piaf Biopic "La Vie En Rose", the similarities in vocal patterns between Piaf and Beth Gibbons in some places are quite remarkable) Musically, the band stole from a variety of sources; jazz, blues, electronic, even some of Frank Sinatra's more melancholy ballads. the result was nothing short of awe-inspiring. I hadn't heard the record in a while but playing it again tonight just reinforced my belief that this was one of the great albums of the 1990's.
The point is that you never know what my hit you from left field. I wasn't prepared for this album and look what happened. Here's hoping some unknown band comes out with a truly great record this year and shakes things up all over again.